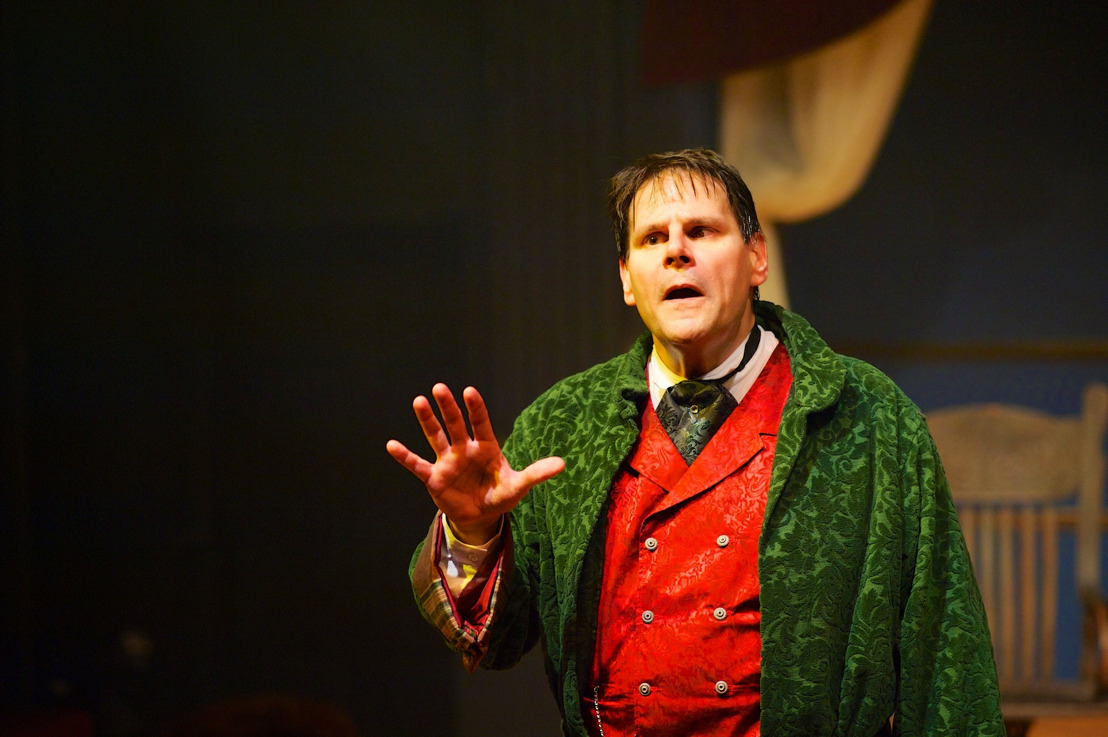 Aurora Theatre to celebrate 10th anniversary of Charles Dickens' A Christmas Carol, November 25-December 23
True meaning of Christmas unfolds in spirited solo performance
Thursday, October 13, 2016 — A holiday classic fit for the entire family, Charles Dickens' A Christmas Carol returns to Aurora Theatre this holiday season, November 25 –December 23! The timeless tale of miserly Ebenezer Scrooge (Anthony Rodriguez) and his quest for forgiveness unfolds in an unforgettable journey of transformation through Christmas past, present and future. Deemed one of the greatest Christmas stories of all time, audiences of all ages will delight in the spirit of the season as they revisit the splendor of what makes this production a holiday tradition!
"Rodriguez's powerful one-man performance of A Christmas Carol is something that never loses its magic, no matter how many times you've seen it over the past decade," said Tony Brown, the shows adaptor and director. "It's his distinctive and personal interpretation, combined with the intimate, charming setting of the theater that stirs emotion in all of us to remember the importance of family, friends and the act of forgiveness."
Set in the late 1800s on a cold, dark Christmas Eve in London, A Christmas Carol transports audiences into the home of the troubled and resentful Scrooge on Aurora Theatre's Studio stage. With a heart that's been hardened throughout the years, Scrooge is visited by three ghosts – Christmas past, present and future – each with a specific story and lesson to share. As he travels through the spirit world and encounters forgotten memories and foreshadows of the future, he's forced to make certain choices about his life, including whether or not to embrace the joy of Christmas. Through mannerisms and voice alone, Rodriguez's spirited solo performance once again brings the characters of Ebenezer Scrooge, Bob Cratchit, Jacob Marley and the remarkable ghosts to life before audience's eyes! Five-time Suzi Bass Award-winning designers Isabel and Moriah Curley-Clay will be creating an all new set for this holiday favorite.
Celebrating its 10th consecutive year, Charles Dickens' A Christmas Carol is presented November 25-December 23. Tickets range from $20-$30 and can be purchased online at tickets.auroratheatre.com.
Regular show times, in repertory with The 12 Dates of Christmas, are as follows:
Wednesday- Friday: 8 p.m.
Saturday: 2:30 p.m. and 8 p.m.
Sunday: 2:30 p.m.