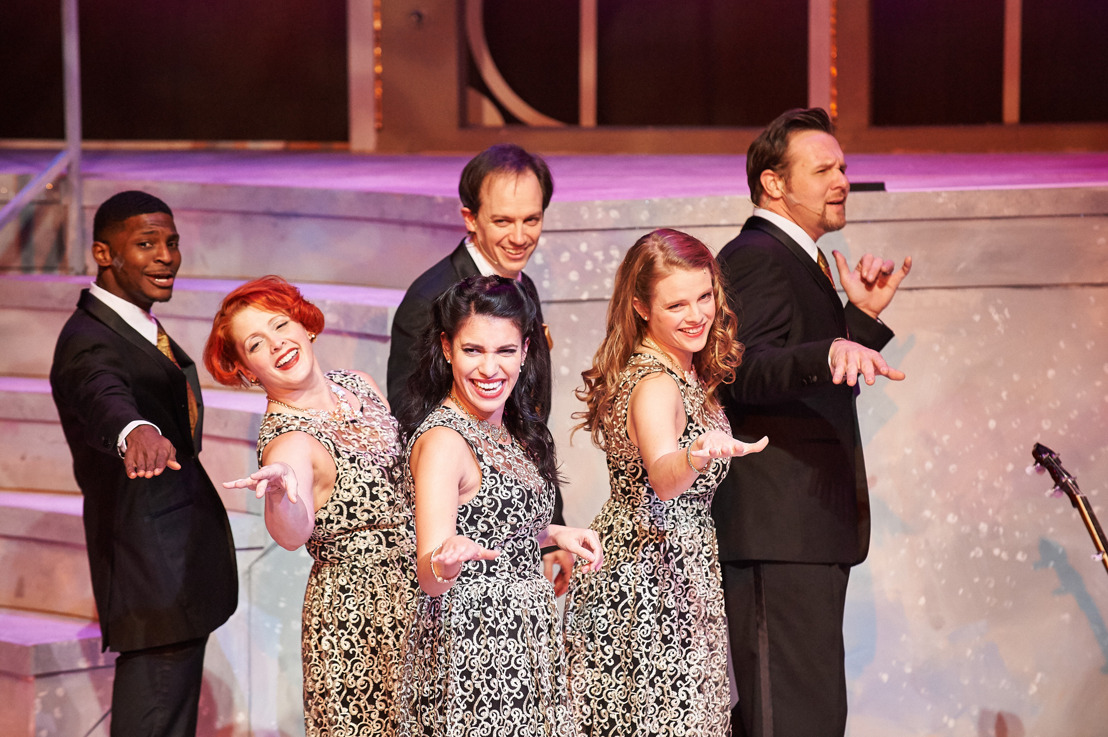 Ring in the holidays with Aurora Theatre's November programming
Festive entertainment to celebrate the most wonderful time of the year!
Thursday, November 3, 2016 — Kick-start the holiday season with Aurora Theatre's holly jolly list of merry happenings this November! Families and friends will delight in the Yuletide traditions of Charles Dickens' A Christmas Carol, The 12 Dates of Christmas and Gwinnett's longest running holiday theatrical celebration Christmas Canteen 2016. In addition, Aurora Comedy Nights will return with Lawrenceville local Mike Albanese bringing laughter aplenty, while spirits are made bright during the annual "Need a Little Christmas Giveaway." Whether it's a Mainstage production, holiday performance class or Teatro Aurora celebration, there's plenty of festive fun to be had this month!
Annual Holiday Productions
Christmas Canteen 2016
November 17 –December 23; times vary
Make spirits bright this winter by joining Aurora Theatre for its annual holly jolly tradition, Christmas Canteen! Striking up festive tunes November 17 –December 23, Gwinnett's longest running theatrical extravaganza will usher in the sounds of the season with Canteen veterans Brandon O'Dell, Christian Magby, Cecil Washington Jr., Jen MacQueen, Diany Rodriguez and Lyndsay Ricketson Brown, among many others. Complete with laugh-out-loud comedy and sparkling musical numbers, this winter wonderland revue promises a delightful experience for all!
Charles Dickens' A Christmas Carol
November 25 –December 23; times vary
A holiday classic fit for the entire family, Charles Dickens' A Christmas Carol returns to Aurora Theatre this season, November 25 –December 23! The timeless tale of miserly Ebenezer Scrooge (Anthony Rodriguez) and his quest for forgiveness unfolds in an unforgettable journey of transformation through Christmas past, present and future. Deemed one of the greatest Christmas stories of all time, audiences of all ages will delight in the spirit of the season as they revisit the splendor of what makes this production a holiday tradition!
The 12 Dates of Christmas
November 25 –December 23; times vary
Aurora Theatre's annual holiday tradition The 12 Dates of Christmas will light up Lawrenceville November 26 –December 23! The spirited production will provide lots of laughter, as audiences are swept away on a whirlwind adventure into the mishaps of one woman's attempt to get her jingle back in the wonderful world of dating. Written by American Shakespeare Center's Ginna Hoben, the delicious one-woman show will make spirits bright with its festive bundle of laugh-out-loud entertainment!
Special November Programming
Teatro Aurora – ROMANCE: Una Noche de Pasión
Thursday, November 3 at 8 p.m.
Thinking of the perfect romantic getaway without any of the spooks and scares? As an encore to this summer's performance in the Mainstage theater, Capricho Music returns by popular demand with a new repertoire and concept in an unplugged musical event featuring unforgettable songs from Latin America's most romantic scenes. Hosted in the intimate Aurora Studio, these romantic rhythms will feature standards with a contemporary spin in a well-defined Tango style. Reservations are recommended, due to limited seating. General admission is $25 and VIP tickets are $40 (include reserved seating and a drink ticket). VIP tables are $100 and include a reserved table for four guests and a bottle of wine. For more information, visit bit.ly/TeatroAurora.
Aurora Comedy Nights: Mike Albanese
Friday, November 4 and Saturday, November 5; 7:15 and 9:15 p.m.
Hometown boy made good, Mike Albanese will return to Lawrenceville to give audiences a weekend of laugh-out-loud entertainment with his one-of-a-kind humor based on his everyday life experiences of paranoia and trying to find the perfect girl to inevitable blow it with after a couple of dates. Although based in New York now, Mike produces the "Red Clay Comedy Festival" annually in Atlanta. Tickets are $18.
Aurora Holiday Performance Class
Mondays and Wednesdays; November 9 –December 5
*There will be no class on Wednesday, Nov. 23 in observance of Thanksgiving
Elementary through high school students are invited to participate in Aurora's newest holiday tradition All of the Other Reindeer: A Dog's Tale, written and directed by Aurora's own Renita James; all participating students are guaranteed casting. Students will have a month-long rehearsal (Mondays and Wednesdays, 5:15-7:15 p.m.) before bringing their talents to the stage for two final performances on December 6 at 6:30 and 7:30 p.m. All potential stars must be able to attend ALL rehearsals and performances in order to participate. There is a one-time New Student Registration Fee of $25, if applicable. Tuition is $250; performance tickets are $5. To register for the class or purchase performance tickets, visit bit.ly/AuroraHolidayClass.
Aurora's Festival of Trees
Throughout November and December
Adding to the yuletide joy is Aurora's annual Festival of Trees, supporting the United States Marine Corps Toys for Tots drive and Gwinnett's local food banks. More than 25 trees decorated by local businesses will illuminate the theater lobby for visitors to enjoy. All guests are encouraged to cast a vote for their favorite tree by placing a new, unwrapped toy and a non-perishable food item underneath it. All gifts will be donated to the United States Marine Corps Toys for Tots and the food items will go toward the Holtkamp Can Challenge to be delivered to area food banks. Visit bit.ly/AuroraFestivalofTrees for more information.
Need a Little Christmas Giveaway
This holiday season, Aurora Theatre will spread joy to those in need with the annual Need a Little Christmas Giveaway. Grand prize winners will receive a family four-pack of tickets to Christmas Canteen and a gift certificate for dinner on the Lawrenceville Square. Runner-ups will receive tickets to an Aurora Children's Playhouse show this December, A Christmas Carol or The 12 Dates of Christmas. Nominations are being accepted now and are due by Wednesday, November 30 at 5 p.m. In the spirit of giving, please refrain from nominating one's self. Winners will be contacted the first week of December. For more information, visit bit.ly/NeedALittleChristmas.
For more information or to purchase tickets for events, visit auroratheatre.com or call the Box Office at 678.226.6222.